New Subreddit for Sputter!
· 1 min read
So I am proud to present the new subreddit for Sputter! You can visit it here:
https://www.reddit.com/r/SputterApp/
Hopefully people will come over there and share ideas, issues, questions or songs with each other. I will certainly keep an eye on it and will also be posting news items from this blog.
Today I have expanded the bug reporting dialog to include links to this blog as well as the new subreddit, which is included in the new release 1.0.2: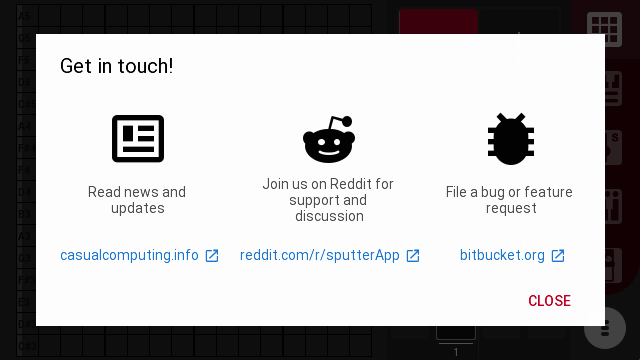 So why is this important? As I move forward developing Sputter it is essential that the work being done really scratches the most important itches. The fact that I usually only have one day a week to work on it makes this even more crucial. So I am hoping that YOU come and join us THERE to participate in the discussion on what to do next with the app.
As a side note I am sorry to report that Reddit has blocked open access to mobile users. I was pondering over that for a while, but decided to roll with it for now, and I hope it will not be too big of an obstacle for most users.